Apera PC60 pH/Conductivity/TDS/Salinity/Temp Tester
Digital Pocket pH/Conductivity/TDS/Salinity/Temp Tester with ATC and Colour LCD.
Backorder dispatch time: 3-4 days
Simultaneously tests pH/EC/TDS/Salinity/Temperature in a quick, accurate, and reliable manner
EASY-TO-INSTALL Replaceable Multi-parameter Probe with single-tap measuring mode switch
Auto recognition of stable values (with optional AUTO HOLD function) improves consistency so you don't have to guess when to manually hold measurement
LARGE CLEAR viewing angle screen with 2 backlit color (indicating 2 different modes), dual display of temp./pH/EC/TDS/Salinity, and indications of completed calibrations and stable readings
COMPLETE KIT with READY-TO-USE calibration solutions, calibration bottles, storage solutions, AAA batteries, and a lanyard all in a portable carrying case
pH
Range
-2.00-16.00pH
Resolution
0.01pH
Accuracy
±0.01pH
Calibration
 
Conductivity
Range
0-200.0 μS/cm
0-2000 μS/cm
0-20.00 mS/cm 
Resolution
0.1/1 μS
0.01 mS/cm 
Accuracy
±1% FS
Temp. Coeff.
0.00-4.00% / °C
TDS
Range
0.1 ppm - 10.00 ppt
TDS Factor Setting
0.40-1.00
Salinity
Range
0-10.00 ppt
 
Temp
0-50°C
 
Calibration
1-3 points 
 
Power
DC 3V, 4x AAA Batteries
 
Battery Life
Continuous operation > 200 Hours
 
Auto Power Off
Yes (After 8 minutes)
 
IP Rating
IP67: Waterproof and dustproof
 
Weight
107g
 
Dimensions
40x40x178mm
 
Warranty
Tester 24 Months
Sensor 6 months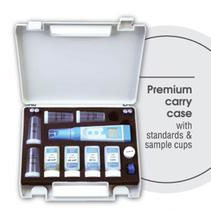 Kit Contents
EC5 Meter
4x AAA Batteries
Lanyard 
Premium Carry Case with handle
1x 50ml 1413μS Calibration Solution
1x 50ml 12.88mS Calibration Solution 
2x Sample Bottle
Suitable for regular water solution testing, such as pools and spas, hydroponics, tap water, drinking water, water treatment, aquaculture, etc.