Apera Salt2 Salt Tester (Salt20)
Digital Pocket Salt tester.
• Durable and waterproof to IP67 standards.
• Simultaneous temperature display
• Reading stability indicator.
• Large STN display with wide viewing angle.
• Calibration indication.
• Multi-point calibration with auto-recognition of standards.
• Battery life indicator.
• Floats in water.
• Extended working hours with 4 x AAA batteries.
• Lanyard and clip for convenience.
Range
0-10.00 ppt
0-50°C
Resolution
0.01 ppt
0.1°C
Accuracy
±1% F.S
±0.2°C
ATC
0-50°C
Calibration
1 point
Power
DC 3V, 4x AAA Batteries
Battery Life
Continuous operation > 200 Hours
Auto Power Off
Yes (After 8 minutes)
IP Rating
IP67: Waterproof and dustproof
Weight
107g
Dimensions
40x31x178mm
Warranty
12 Months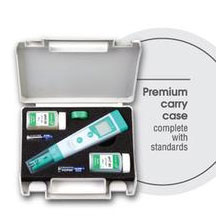 Kit Contents
Salt2 Tester (Salt20)
5ppt Salinity Standard
4x AAA Batteries
Lanyard
Premium Carry Case with handle